A pretty thorough list, with some possible, some optional, personal preference things to bring. Some gear can be shared - like a 2-man tent, water purifier, backcountry cook kit and stove, field guides and so on. And you may chose to add or delete as you see fit. This is an informal equipment checklist to help guide you in your trip preparations and packing.

All you bring must conform to acceptable airline regulations, and specs for size and weight. Most items will be stored at camp or in a vehicle while we are out exploring; some will be on our backs in daypacks, or with us on the national park bus system. Airlines do not allow combustibles, such as cook stoves and fuel canisters, even if never used (they just confiscate them and sometimes leave a note to that effect, before loading bags on the plane). So, we will buy stove fuel and related (including matches) in Alaska. And for those who think they might venture into the backcountry for that kind of camping experience away from our base camps, and plan to cook a meal or two or three, they can purchase the necessary fuel canisters and small camp stoves at a sporting goods store - there is one by the Denali National Park entrance. Bear-proof containers to hold foods and toiletries are standard issue by the park service for backcountry campers.

Large duffel bags (and you can even fit packs in them) are very handy containers to pack all your stuff into and they are easier to handle and transport while we head to various destinations (and they are good to stow gear under planes to Anchorage).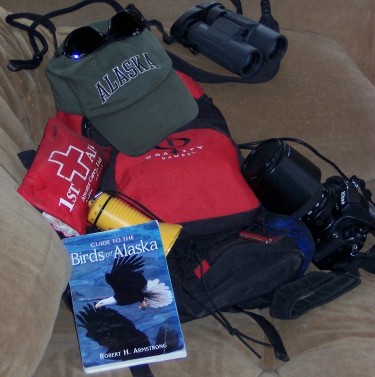 Items with an asterisk (*) are primarily for backcountry campers.

MEDICAL/HEALTH
HIKING GEAR
GADGETS
first aid kit
prescrip. drugs
sunblock
bug dope
toilet kit
biodegrad. soaps
vitamins
mole skin
water bottle
hiking boots
gortex parka
day pack
backpack*
pack cover
hiking pole
gaiters
compass
altimeter
GPS unit
2-way radios
cell phone
CLOTHING
OPTICAL
CAMP GEAR
sneaks/sandals
wool/synth. socks
wool gloves/hat
wool shirt/ sweater
shorts/long zip pants
sun hat/cap
sweats
rain gear
quik dry undergarm.
kerchief
fleece vest
head net
reading glasses
eyeglasses
sunglasses
camera
long lens
binoculars
hand lens
spotting scope
2-3 man tent
tent rain fly
ground cloth/tarp
sleeping bag
sleep pad/pillow
stuff sacks
latrine shovel*
small flashlight
rope/ tent stakes
trash/ziplock bags
"dry" bags
H2O purifier*
cook kit*
MISCELLANEOUS
SPECIALTIES
DO NOT BRING
batteries/charger
film, more film
playing cards
post card stamps
pencil/pen
journal/books
field guides
towel and w. cloth
Swiss army knife
picture I.D.
plane tickets
calculator
maps
tripod
whistle
coffee/tea
snacks/candy
spices
pers. items

OTHER ?
____________
____________
____________
____________
____________
____________
____________
____________
____________

fireworks
firearms
pepperspray
combustibles
boom box
illegal subst.
bear bells
perfumes
tobacco prod.